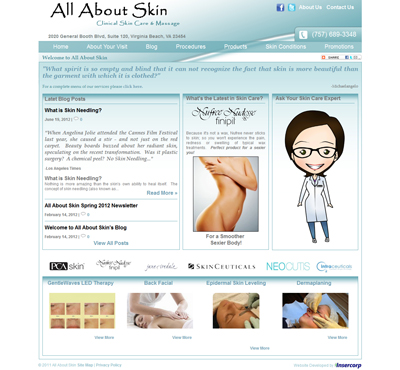 All About Skin is a skin care spa located in Virginia Beach, VA. Linda Hall, the owner, is found of saying "I make it a goal everyday to make a difference to someone's life with the knowledge that I have gained working as both a Dermatology Nurse and as a Master Esthetician." With over 22 years of experience in the dermatology field Linda is able to make her goal possible every day.
Linda is not only an expert in skin care she is also a savvy business woman who knows that in today's market a successful business needs an online presence "There were 16.6 billion searches performed in the U.S. alone in October of 2010. Another relevant search engine online marketing statistic is this: over 77% of North America's population is using the Internet." thesearchguru.com
Linda hired Insercorp to develop her website using an existing design that she provided.
The website includes a blog with informative articles regarding the latest advances in skin care and a photo gallery featuring before and after pictures of certain treatments performed on clients.
Visitors to the website will also be able to access the complete menu of services and products offered at the spa.
The website will also be integrated to All About Skin's Facebook and Twitter accounts; by using a multi media approach Linda knows she will be able to reach a larger audience.
To visit Insercorp's Client Profile for All About Skin please click here.
To view the Website Project Details for All About Skin please click here.
To visit All About Skin's website please click here.