Local web development company Insercorp LTD delivers a cutting-edge, interactive website for the citizens of Franklin.
Friday, October 16, 2015 -- Franklin, Virginia -- The City of Franklin Police Department (FPD) contracted with local Downtown Franklin website development firm Insercorp LTD earlier this year to design and develop a world-class, information-driven website for "Franklin's Finest". The new website was brought online in October with the purpose of providing resources and information for the citizens of Franklin as well as to promote recruitment of new talent to join the force.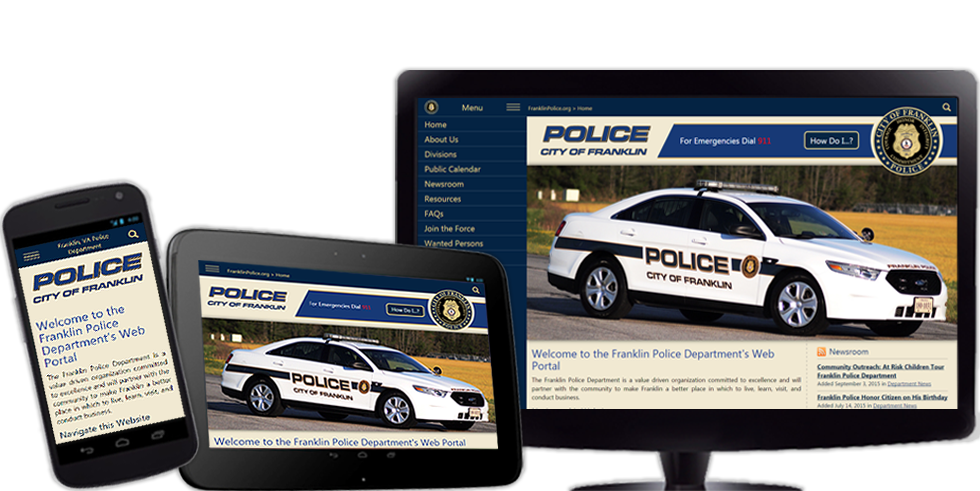 The Franklin Police Department's new website is responsive on all devices - from computers to tablets and smartphones, making it easier than ever to access information on the go (except of course while you're driving).
FranklinPolice.org is packed with interactive and dynamic content so visitors will always be able to get the most up-to-date information with a simple visit to the homepage! The slideshow on the homepage allows visitors to click on the images to easily view important announcements, pages, documents, or external links. The new website also utilizes an interactive Events Calendar with Neighborhood Watch meetings, job application deadlines, and other public events.
The resources section includes an interactive criminal activity map as well as information and links for citizens, parents, and teachers.
Visitors may easily navigate the new website with a state-of-the-art navigation menu. Once a user opens the menu from the upper left-hand corner of the page, or use the search feature in the upper right-hand corner. This navigation bar makes it simple to find anything visitors may be looking for; from resources such as safety tips, all the way to wanted persons! When opened, the menu remains visible while scrolling through content.
The all new FranklinPolice.org includes a wealth of useful information, interactive features, and provides contact information, frequently asked questions, and resources for each division within the Police Department.
The new website was built on Insercorp's proprietary iPlasmaCMS2 Web Content Management System. Franklin Police Department selected Insercorp's technology because of its secure, proprietary nature, its stability and reliability, as well as the user-friendly administrative control panel used for managing the website without needing a technical background.
The City of Franklin Police Department has confidence that their new website will help to keep its citizens informed and hopes that it may bring new recruitments to their force.
To access the new website visit www.franklinpolice.org.
###
About Franklin Police Department
The Franklin Police Department is a value driven organization committed to excellence and will partner with the community to make Franklin a better place in which to live, learn, visit, and conduct business. For more information, please visit www.franklinpolice.org.
About Insercorp LTD
Insercorp LTD, formerly Bradshaw-Kimbrel Technology Group, LLC, was founded in 2007. The website design and development firm is best known for the creation of iPlasmaCMS2, a user-friendly web-based application that gives clients complete control over their websites. Insercorp provides website, marketing, and information technology services to business, education, government, healthcare, and non-profit organizations. Insercorp's work has received first place awards on State and National levels. For more information, please visit www.insercorp.com.
###
Media Contacts:
Franklin Police Department
Captain T.W. Whitt
Public Information Officer
757-562-8587
Insercorp LTD
Summerlyn Hemmis
Administrative Assistant
757-337-2940
###
© Copyright 2015 Insercorp LTD. All rights reserved.