LINE-X of Virginia Beach believes that good business is about integrity, profitable business is about selling your product; and lasting business is about offering a superior product with nothing less than excellent customer service.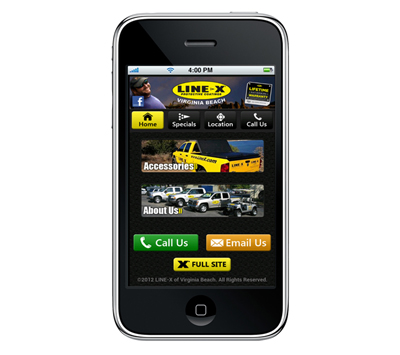 After realizing that there was a loss of potential customers from users hitting their website from mobile devices, Line-X of Virginia beach wanted a scaled down website that would load quick and provide brief but useful information for mobile users.
Our team designed and coded a simple mobile interface with a "Call" button, GPS integration, E-mail button, and a feed from LineXVB.com's "Specials" category in its iPlasmaCMS2 News Module. The mobile site also features a button to switch to the full desktop site.
Features
Optimized for Android, iPhone, and Windows Phone
"Call Us" button
"Find Us" button