LINE-X of Virginia Beach believes that good business is about integrity, profitable business is about selling your product; and lasting business is about offering a superior product with nothing less than excellent customer service.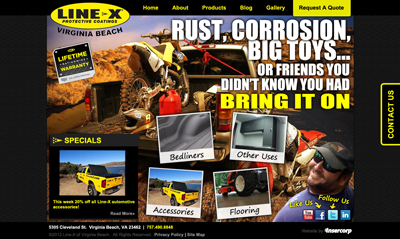 Line-X of Virginia Beach needed a new website and returned to Insercorp to design and develop it for them.
The new website included an entirely new custom design and the content management system was upgraded from iPlasmaCMS1.5 to iPlasmaCMS2.
Features
iPlasmaCMS2 Content Management System
Blog Module
Gallery Module
Testimonials Module
Online Request Estimate Form