Constructed in 1796 using "heart" pine wooden dowels and hand-forged nails, Mahone's Tavern and Museum, is one of the oldest houses in Southampton County. Although during the 20th century, Mahone's Tavern made the transition from tavern to private residence, it's longstanding historical significance rivals that of many historical sites in Virginia.
Mahone's Tavern and Museum's historical, architectural, and archaeological recognition has earned it a place on the Virginia Landmarks Register. For all the history "buffs" who love to learn the history of the great state of Virginia and it's role in the Civil War , Mahone's Tavern is also listed as a designated site on the Virginia Civil War Trails Program. Mahone's Tavern and Museum has also been accepted into the National Register of Historic Places.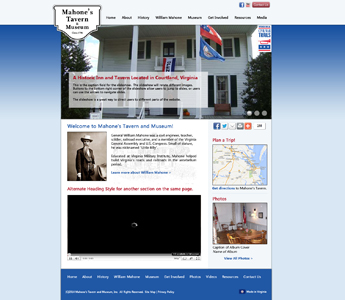 The new website for Mahone's Tavern and Museum will reflect it's eccentricity and it's great wealth of information. The history of Mahone's Tavern and Museum is so eclectic that the Insercorp Development Team will strive to capture and display it's visions of the past so that visitors feel as though they are enjoying a summer afternoon in 1796 on the double porch, or warming their hands in front of the original 18th century chimney that still stands on the north side of the house.
The new MahonesTavern.org will be developed using Insercorp's proprietary - iPlasmaCMS2 - Content Management System. The new website will also have a Photo Gallery with photos of the original Mahone's Tavern and also recent photos of the establishment. MahonesTavern.org will also have a SlideShow Module on the Home Page so users may get a sneak peek at what they can find on the website!
Features
iPlasmaCMS2 - Content Management System
Slideshow Module