The Downtown Franklin Association, Inc., or DFA, is a non-profit organization that promotes and supports businesses in Downtown Franklin, Virginia. The DFA runs the annual summer concert series "We Be Jammin" as well as the annual Franklin Fall Festival and many other community events.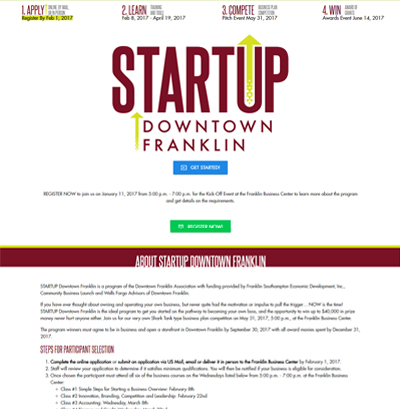 Insercorp worked with the staff of the Downtown Franklin Association to develop an innovative website for STARTUP Downtown Franklin, a business plan competition with support and funding provided by Franklin-Southampton Economic Development, Inc., Community Business Launch, and Wells Fargo Advisors of Downtown Franklin.
This custom website features the Material Design pattern and a unique, innovative content scrolling technique. An online form makes it easy for applicants to register. The website includes date triggers to automatically close registration and move the starting frame to different positions along the single-page website.
Features
Custom Material Design Website
Unique Scrolling "up" User Experience
Multi-step Online Application Form
Interactive, Timer-based Navigation system