Our process is broken down into four steps: discovery, proofing, development, and delivery.

Step 1: Discovery

Our discovery process begins with an extensive evaluation based on an interview and research. We then take our findings and make recommendations (including quotes) for both minimal and optimal effectiveness. Once recommendations have been selected by the client we enter the proofing process.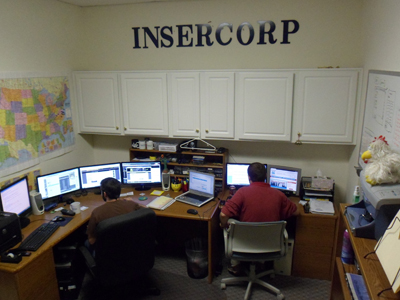 Step 2: Proofing
The proofing process allows us to ensure optimal client satisfaction. Our Web Designers fully design a rendering of what the homepage of the website will look like after gathering materials including logos, establishing a site map, photos, colors, and other information. Once the first proof is completed it is delivered electronically for the client's approval or feedback. If revisions are requested those revisions are made and the proof is resent. The Project Manager will hold conversations with the client either in person, over the phone, or via e-mail throughout the proofing process. If further tweaking of revisions is necessary they are made and delivered electronically. Once the client and project manager have both agreed on a final design the development process begins. Additional proofs will be drafted for other landing pages (such as search engine results, product description pages, etc.) during preliminary development.

Step 3: Development
The development process is broken into three areas: database development, application integration, and front-end development.
The database is designed by our Database Architect and built on a development server which will serve as the project's testbed until it is ready for launch.

The content management system and any additional modules or applications are then installed on the development website. Once the applications are connected with the database the front-end development begins.

Front-end development includes integrating the approved design into the content management system and any installed modules or applications. In order to ensure promptness in delivery the database is normally set up during the proofing process. Front-end development is further broken down into design integration and content integration.

Once the development process has been completed the website will be operational on the development site. The Project Manager will conduct various walkthroughs throughout the development process and a final walkthrough upon completion of development.

Stage 4: Delivery
The final stage begins when the Project Manager has approved the project for preliminary delivery. The Project Manager will meet with the client (this can be done over the phone if necessary) to do a review of the website including layout, content, and application functionality. Any revisions will be documented and a final delivery will be presented where necessary. Once the website is ready for launch training will be conducted with the client on how to use the new system followed by the launch of the new website.