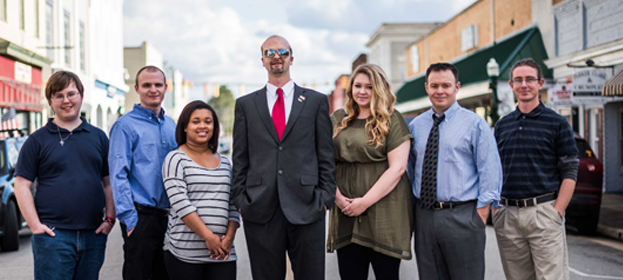 The Insercorp team includes both creative and technical overachievers who have designed, developed, delivered, and supported hundreds of projects.
Our talented creative and technical staff offers a diverse background of extensive knowledge and experience in marketing, technology, and business administration. Developing a strong team allows us to provide cutting-edge solutions for our clients. Insercorp is committed to building a dynamic and versatile team to support the mission of clients across different sectors.
Our successful Intern Learning Program prepares young students with a real-world learning environment and provides them with job placement opportunities.
Meet Our Team
Working with Insercorp gives you access to our designers, developers, programmers, and support staff. Our staff ensures the most optimal project management during development and quality support after delivery of projects to maintain consistency in communication and service for our clients.
Tim Bradshaw, Founder
Tim was born in Dayton, Ohio on a military base and has since lived around the world before coming to Franklin, Virginia to start his company. He attended Virginia Commonwealth University for Business Administration and Management where he gained a foundation in entrepreneurial studies.
From 2003 to 2006 Tim created and managed GamePlasma.com, an online publication centered on the interactive entertainment industry. Designing content around the user and developing methods in optimizing websites for search engines GamePlasma averaged over 125,000-250,000 unique monthly visitors and 500,000 - 1,500,000 monthly page views, ranking in the top 10,000 websites on the Internet. In 2007 Tim partnered with one of GamePlasma's developers, Josh Kimbrel, in forming Bradshaw-Kimbrel Technology Group (BKTG) to provide better quality website solutions to the commercial market using advanced technology developed for GamePlasma and its network of online communities and affiliates. In 2010 after acquiring the other half of BKTG the group incorporated and became known as Insercorp LTD. Now Tim manages the day to day operations of the company including client relationships, business development, and project management.
Tim is also an active member of his community, currently serving on the Board of Directors for the Downtown Franklin Association (since 2013). He was the President of the Asian Business Association of Hampton Roads (2012-2013) and serves as a member of the Membership and Communications Sub-Committee for the Hampton Roads Chamber of Commerce. Tim also serves on the Web Development Advisory Board for ECPI University in Virginia Beach, VA. In 2012 he was invited as one of 100 entrepreneurs across Virginia for the 2012 Year of the Entrepreneur Kick-Off Event at the State Capitol in Richmond, Virginia. Tim is an Eagle Scout and remains involved with the Boy Scouts of America.
Benjamin Woods, Web Developer
Ben was born and raised in Meredin, Connecticut and has since relocated to live with family in our neighboring community of Carrsville, Virginia. Before relocating to Carrsville, Ben attended Wilcox Technical High School in Meredin, Connecticut to study one of his greatest passions in life: Information Technology. After graduating high school, Ben attended the New England Institute of Technology at the Warwick, Rhode Island campus where his studies flourished in Video Game Simulation and Design.
Ben proclaims that he is an avid "gamer" and he enjoys playing computer games and he also enjoys gaming on consoles such as XBOX, XBOX 360, Wii and his favorite, PS3. Some of Ben's other hobbies include playing Chess and collecting firearms and has been a member of his Rifle Team for over two years. Ben is also an avid member of his church, the Bethel Assembly of God located on Route 58 in Suffolk, Virginia.
Ben works on both front-end and back-end web development projects as well as asists in Server Administration and Technical Support. He has been an integral part of our team since completing our Intern Learning Program in April 2013. Ben says one of his main goals is to "Learn as much as possible about the various programming languages in website development".
Les Johnson, Web Developer
David Burton, Database Consultant
Paul Chin, Jr., Technology Consultant
Ross Newcomb, Graphic Designer
Ross was born and raised in Chesterfield County, Virginia and now lives in Richmond, Virginia. He has a Bachelors of Fine Arts in Communication Arts: Illustration from Virginia Commonwealth University School of Arts.
In his spare time, Ross enjoys painting and other art forms. He plays piano and guitar. Ross also enjoys the outdoors and longboarding.
Ross feels that working with Insercorp helps him to develop his skills and gain experience in the field of graphic design. He does some of our web and print graphic designs, web and print ads, and branding. Visit his LinkedIn page to learn more about his experience.
Summerlyn Hemmis, Marketing Assistant
Summerlyn was born in Chesapeake, Virginia and moved to Southampton County with her family in 2006. In Elementary school, Summerlyn was enrolled in the Talented & Gifted Program, the Talented & Gifted Art Program, and the Talented & Gifted Music Program. She remained in the Talented & Gifted Program as well as the Talented & Gifted Art Program throughout Middle and High School. Summerlyn graduated High School as a part of the National Honors Society and with an Advanced Diploma. She went on to further her studies at The Art Institute of Virginia Beach, seeking her Bachelor's Degree in Graphic and Web Design.
In her spare time, Summerlyn enjoys spending time with her family and friends. She also has a passion for horseback riding, reading, sketching, painting, and pottery.
Summerlyn joined the Insercorp team in January, 2015 to be part of a small business making a big impact, as well as to apply her knowledge from her studies to this business and its clients. Her organizational skills, determination, creative mind, and her love for making people smile makes her a great asset to our team and clients.
Justin Mason, Project Coordinator
Rochelle Scott, Administrative Assistant